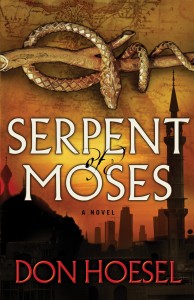 From the Back Cover
Moses built and lifted up the brass serpent,
healing the afflicted Israelites of snakebites.

King Hezekiah called the serpent Nehushtan. Long thought destroyed, it's been buried for millennia, secreted under the region's shifting sands.

Now the Israeli government wants it back and they will stop at nothing to get their hands on it. Yet they're not the only ones who covet the Nehushtan.

Archaeologist Jack Hawthorne travels to Libya intent on recovering the sacred object, but one does not cross the Mossad and expect to walk away without a fight. Jack and his friends must find the priceless "snake of brass upon a pole" before those who are also hunting it find them...and silence them forever.
About the Author
Don Hoesel, the acclaimed author of Elisha's Bones, Hunter's Moon, and The Alarmists, lives in Spring Hill, Tennessee, with his wife and two children. Don holds a bachelor's degree in mass communication from Taylor University. When not writing novels, he spends his days working in the communications department of a large company.
My review:
This was a really good read. Some have suggested this book is like an Indiana Jones type of adventure.
Jack Hawthorne is the main character in Serpent of Moses. The book starts with Jack in a cave in Libya being chased by men who want the staff Jack has. The book continues with mystery, chasing and searching for Jack who is missing.
It is an interesting book about archaeology, the Bible, the Middle East, Milan, history, friendship, mystery, God, death, suspense danger and the brass staff called the Nehushtan. The Nehushtan is a sacred object in the form of a snake of brass upon a pole. Moses made it to heal people of snake bites from a plague of snakes God sent them. It is said to have been broken into pieces by King Hezekiah. The Israelis has hired Imolene to get the staff back and return it to them.
Jack has disappeared and Espy and her brother go to the Middle East to and Europe search for him. His friend Duckey also joins in the search.
Dr. Jack Hawthorne- an archaeologist in search of the Nehushtan.
Imolene -an Egyptian paid by the Israelis to get the staff..
Dr. Esperanza (Espy) Habilla-girlfriend of Jack, she is from Venezuela and a foreign language expert at the University of Venezuela.
Romero Habilla- brother of Esperanza; an antiquities dealer.
Amadou Boufayed- a Libyan
Martin Templeton- an Englishman also after the staff and Jack.
Milo Sturdivant- a museum curator who hired Jack to bring him the staff.
Jim Duckett- a friend of Jack, a former CIA agent and a professor. Goes by the name of Duckey for his friends.
Stephanie- wife of Jim Duckett.
Marwen Saidani- a Tunisian.
Tom Fitzpatrick- CIA Unit Chief Agent and friend of Jim Duckett.
This is my first read by Don Hoesel and the second book in the Jack Hawthorne series, but this book can be read without reading the first one. There is violence but no sex or bad language.
I received a complimentary copy of Serpent of Moses by Don Hoesel to read and review from Bethany House. The opinions are my own.
I will give it a 5 star because of the interest it had for me.