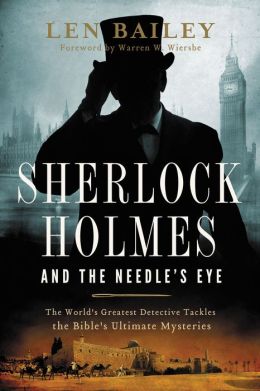 Sherlock Holmes and the Needle's' Eye by Len Bailey
Publisher's Description:
"Embark on a journey through the Old and New Testament with Sherlock Holmes and Dr. John Watson as they explore exotic and spice-laden places in search of clues. The detective and the doctor travel back in time with the help of a Moriarty-designed time machine to investigate ten Bible destinations, unlocking clues to ten Bible mysteries. The most fascinating crime cases are those that are already solved, those that have been investigated by the police and brought to a swift, satisfying, and almost inevitable conclusion. So it is with Bible stories which the reader may consider familiar and unremarkable. But under close scrutiny these stories give up their hidden clues, their long kept secrets. Like a jewel newly polished, they sparkle and shine with a fresh, introspective light."
Since I like Sherlock Holmes and Dr. Watson, I looked forward to reading this book. Sherlock Holmes and the Needle's Eye is great for a Bible Study Group with the discussion questions in the book. The chapters do not need to be read in order and not at one time.
Because my favorite characters for Holmes and Watson, are Basil Rathbone and Nigel Bruce, I pictured them as the characters in the book.
There are ten different mysteries in the book using both the Old and New Testament.
The detectives try to solve the mysteries and I enjoyed the manner in which they deduced (as Watson says).
This is a good book for those interested in the Bible, mysteries, Victorian age, time travel and Sherlock Holmes.
I received a complimentary e-book copy to read and review from booksneeze.com. Published by Thomas Nelson.The opinions are my own.
I give this a 5 star.
Go to this link on Huffington Post to read an interview with Len Bailey:
Leona Olson