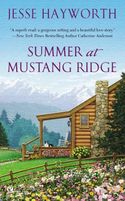 CONGRATULATIONS!
You won the Fresh Fiction contest for Jesse Hayworth -- ONE
DAY ONLY BLOG CONTEST! Jesse Hayworth - Win a Summer at
Mustang Ranch Prize Pack (5506)
http://freshfiction.com/contest.php?id=5506
Leona Olson
State: MN
Thank you for entering contests at Fresh Fiction. Please
tell your friends and we hope you'll enter our contests
again! If you're on Twitter or part of our Facebook
community please take a moment to post your win, we really
appreciate it! Check back for our daily blog contests, you
need to leave a comment but the blog contests usually only
last a day or two and have great prizes!
Staff
Fresh Fiction
http://freshfiction.com/
5506
Like us on Facebook -- http://www.facebook.com/freshfiction
Follow us on Twitter --
http://twitter.com/freshfiction
This is a wonderful prize. There are reviews and interviews with authors on this site.
Leona